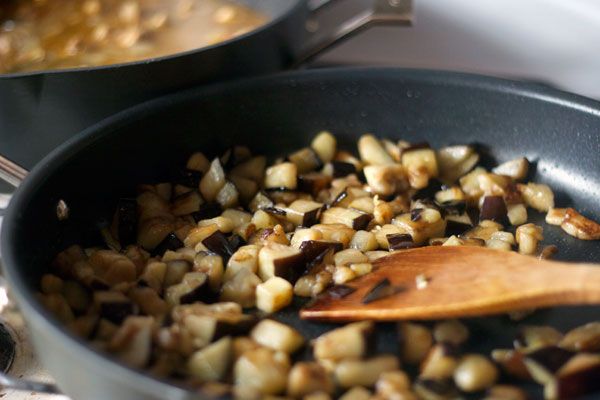 A work lunch in the city recently saw me dining on a fish curry at an Indian restaurant. While the curry was fairly standard and unspectacular, the smokey eggplant raita I ordered with it on a last minute whim saw me eating in silent appreciation while my colleagues chatted around me. Lacking the budget to lunch at restaurants everyday I set out to recreate the raita at home, and I am quite happy with the results!
This is a very thick, chunky, scoop-able raita – not the runny, pureed variety that runs right off your papadum!
Ingredients
1 large eggplant, cut into 1cm cubes
1 teaspoon ground cumin
1/4 teaspoon cayenne pepper
1 tablespoon coconut oil
1 medium onion, diced
2 cloves garlic, minced
1 cup natural yoghurt
Instructions
Drop cubed eggplant into a colander, sprinkle with a generous amount of salt and allow to rest for at least 10 minutes; as the salt will pull moisture out of the eggplant, it's best to rest your colander over a large bowl or a sink.
Heat a frying pan over a low heat and add the cumin and cayenne pepper; stir for thirty seconds. Scrape spices into a medium sized mixing bowl.
Melt coconut oil in the frying pan over a medium heat. Rinse the eggplant with cold water to remove the salt and pat dry with a clean tea towel.
Add the eggplant to the pan and saute until soft and the skin turns a rich brown.
Empty the cooked eggplant into the same mixing bowl as the spices and add in the onion and garlic. Allow the eggplant to cool to room temperature.
Finish by stirring the natural yoghurt through the veggies and spices and season with salt to taste.
http://www.petaspan.com/eggplant-raita/
Nutrition per 1 tablespoon serve: 28 calories / 117 kilojoules, 2g fat, 1g protein, 1.5g carbohydrate,0.5g fibre, 1g effective carbs.